Agrimeco is the first company achieved AISC standard in Vietnam
[Monday, 2-29-2016]
On 29 February 2016, Agrimeco JSC honors to receive AISC standard from the United States of America. AISC- 2005 (American Institute of Steel Constructions) is a standard created by American Institute of Steel Construction since 2005 which conducting and regulating of design, fabricate high building steel structure.
Since the first day of orientate the strategy to participate in steel structure market, the Board of Management have perceived the role, position, important of professional management followed by AISC code in the scenario of our country is stepping into globalization. Therefore, Agrimeco JSC created Board of Management to implement and build up quality control procedures follow AISC code. After 1 year of implementing and applying AISC code, on 29 February 2016 Agrimeco JSC have been awarded AISC standard.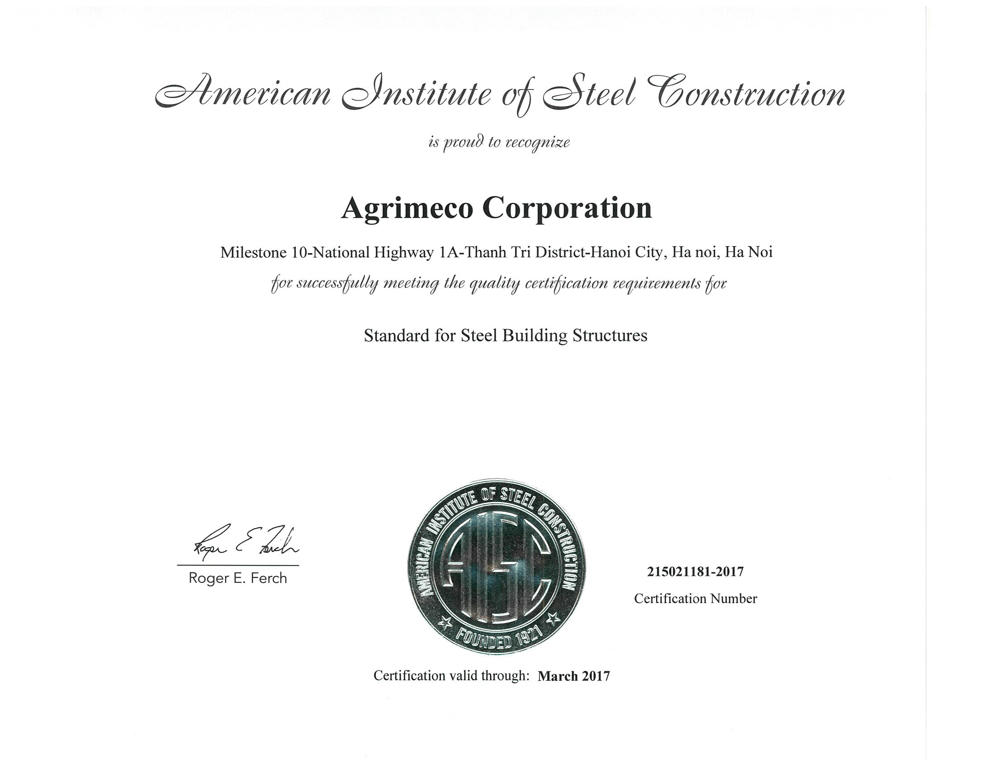 Agrimeco JSC have been awarded AISC standard – United States of America
This is not only proud of Agrimeco but it is also proud for Vietnam, when Agrimeco is the first company achieved this standard.
However, this is just a first step result. To promote the efficiency of AISC standard, the General Director have requested all employees to strictly follow the procedures of AISC standard, often renovate, update, modify to implement AISC standard.